CITY OF MOLTRASIO (CO)
PAID PARKING
Abaco Smartcities has been entrusted the management of the paid parking areas in the city Moltrasio.
Therefore, technology and services will be made available to simplify the management of the available spaces, for both citizens and visiting tourists, while respecting this territory rich with panoramic and cultural assets.
The paid parking will vary with regards to the season.
---
Parking schedules
Summer Schedule: from 1st April to 31st October, from 8:00 am to 24:00 (midnight)
Winter Schedule: from 1st November to 31st March, from 8:00 am to 20:00 (10:00 pm)
 Applied hourly rates
Minimum rate: € 0,50 (50 euro cents) 30 minutes
Hourly rate: € 1,00 an hour
Maximum parking limit: four (4) hour parking
Payment method
The payment for the parking may be by cash, debit / credit cards at any one of the three (3) parking metres situated in the area near the lake, or by smartphone, after previously inserting the license plate number.
---
Payment by APP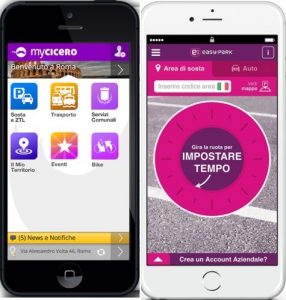 New method of payment by APP have been introduced, available for all smartphones (APP Android and IOS, Web APP for all operative systems) or by SMS-mobile phones.
The APPs pinpoint and identify the parking area and the rates. Once payment has been made it is not necessary to display any receipt in your vehicle because verification of payment is ascertained through the license plate number by the traffic police. If necessary, it is possible to prolong or terminate the parking at any moment.
Available APPs:  EasyPark: https://easyparkitalia.it
---
Ref.  Abaco S.p.A. – Div. SmartCities
Piazza Vienna, 3 – 31044   Montebelluna   (TV)
Tel. 0423 – 601755
e-mail: info@abacospa.it; parcheggi@abacospa.it